SONGS & THEIR STORIES
Classic Female Blues
Post available in English, Español, Français, Deutsch, Russian/Pусский and Italiano.
---
Included in this post:
Introduction
What are 'Race Records'? (A very brief explanation)
The Songs: Original recordings, modern recordings, and short anecdotes.
---
INTRODUCTION
A good 15 years before Robert Johnson even made his first recording, the blues was well established by a group of early innovators: women such as Mamie Smith, Ma Rainey, Bessie Smith, Lucille Bogan, Alberta Hunter, Ida Cox and many more. These early blues women defied racism, sexism and, many, poverty. Their lives were governed by an independent spirit, forced to exercise independence from an early age as a result of bad childhoods and young careers in the travelling minstrel shows. They were fearless and strong and they sang about reality.
On Wednesday 8 March 2017 I was given the opportunity to share my respect and admiration for these women. It was International Women's day. I had been asked to give a talk about influential women in blues and DJ an all female set for the social dance afterwards – an opportunity I leapt at!
I created a 'Blues Queens of the 1920s and 1930s' DJ set. The aim was to showcase songs that were written and / or recorded by women in the 1920s and 30s as 'Race Records', and help dancers understand the significance of the songs by accompanying each one with a short anecdote. And there began the 'songs and stories' idea… I have now played variations of this set in a number of events and have had numerous requests to share the set list and stories. So here it is (or at least a selection of the songs)! I hope you enjoy it!
---
WHAT ARE 'RACE RECORDS'? (A very brief explanation!)
The term 'Race Records' refers to phonograph records made by African-American artists, and marketed primarily to African-American audiences in the 1920s-40s in the USA.  The term is said to have been coined by Ralph Peer, the Okeh recording manager. It was essentially a term used to 'categorise' music, and referred to any black music at the time, including blues, jazz, gospel and even spoken comedy.
Between 1945-1949 'Billboard' published a Race Record chart, showing the current hits based on Juke box plays and sales.  In 1949 this name was changed, as the term was starting to be viewed as derogatory, and became the 'Rhythm and Blues' chart. Jerry Wexler, who changed the name, wrote "'Race' was a common term then, a self-referral used by blacks…On the other hand, 'Race Records' didn't sit well…I came up with a handle I thought suited the music well – 'rhythm and blues.'… [It was] a label more appropriate to more enlightened times." [1]
---
THE SONGS
1. CRAZY BLUES
Written by Perry Bradford
First recorded by Mamie Smith in 1922
Crazy Blues was the song that kick-started the era of Classic Female Blues.
In February 1920, Perry Bradford, an African American musician and composer, arranged an appointment with Okeh records for Mamie Smith to record 'That Thing Called Love' (a vaudeville style song) and 'You Can't Keep a Good Man Down' (a blues). It is said that Okeh Records received threats to boycott the company if they recorded a black singer, but they went ahead with the recording anyway.
The recording wasn't released until the summer and was released as one of many records, with no special mention or promotion by Okeh Records. However the black press promoted the release and black communities in America bought every copy they could find!
Okeh realised that African Americans provided a whole new market for them to tap into and make money from. So they quickly recorded 'Crazy Blues', with the newly named Mamie Smith's Jazz Hounds, in August 1920. This time they promoted the record, and the sales were incomparable. The success of 'Crazy Blues' gave rise to the new 'race record' industry and opened the door for the whole era of Classic Female Blues.
Crazy Blues was inducted into the Grammy Hall of Fame in 1994.
Here you can listen to the original recording (Mamie Smith, 1920) and a recording from 2011 by Catherine Russell, which can be found on the Boardwalk Empire Volume 1 soundtrack:
---
2. DOWNHEARTED BLUES
Written by Alberta Hunter and Lovie Austin
First recorded by Alberta Hunter and Lovie Austin, 1923
The original recording was produced by a man called 'Ink' Williams – the most successful Race Record producer of his time – at Paramount Records. It is said that Williams secretly sold the recording rights to Columbia Records, in a deal where he got all the royalties, and none went to Hunter or Austin.
In 1923 Columbia made a recording with Bessie Smith on vocals – this was Bessie's first single and an instant success selling over a million copies. This recording established Bessie Smith as the most successful black performing artist of her time.
Bessie's version of 'Downhearted Blues' is in the Rock and Roll Hall of Fame as one of the 500 songs that shaped rock 'n' roll.
I'll let Alberta herself introduce the song to you here:
(Note that she mentions her royalties… either the information about Ink Williams selling the royalties is inaccurate, or later in life Alberta managed to win back the rights to her songs. I'm not sure. But either way, good on you for Alberta!)
Here is a short playlist including Alberta's original recording (1922), Bessie's version (1923), plus two modern recordings: One by the Barrelhouse Jazzband (1982) and one by Queen Latifah, from the HBO Bessie movie (2015).
---
3. EMPTY BED BLUES
Written by J.C. Johnson
First recorded by Bessie Smith in 1928
Bessie Smith was no doubt bisexual, and had many affairs with women while on the road. It was said that Bessie lived in fear that her abusive husband would find out about her affairs with women, but the blues gave her an opportunity to sing out loud what she was struggling to keep secret.
For example, she usually sang a version of "Empty Bed Blues" that referenced a male love object, but was known to also sing the following in live performances (never recorded):
"I want a deep-sea diving woman that got a stroke that can't go wrong. Yeah, touch that bottom, gal, hold it all night long."
Listen here to the original recording by Bessie, and two of my favourite re-makes: one by the brilliant LaVern Baker, from the album 'LaVern Baker Sings Bessie Smith', and one by Della Reese from her 'There's Always The Blues' album, both released in 1958.
---
4. Nobody Knows You When You're Down & Out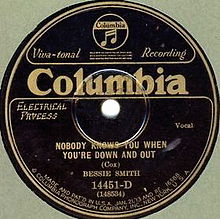 Written by Jimmy Cox in 1923
First recorded by Piedmont Blues musician, Bobby Leecan, in 1927. Made famous by Bessie Smith in 1929
The first version of this song to be recorded was actually titled "Nobody Needs You When You're Down and Out" and used some different lyrics with emphasis on the hard times.
The second recording was by Pinetop Smith, a boogie-woogie pianist, in 1929. In this version the lyrics are spoken instead of sung. But it is the Bessie Smith recording from 1929 that became a huge hit. Today it is the song most associated with Bessie Smith.
Interestingly, the lyrics of the song seem to have foretold the circumstances surrounding the release. Bessie Smith released the song on September 13, 1929. The New York stock market had reached an all-time high less than two weeks earlier, but two weeks later saw the Wall Street Crash of 1929, and the beginning of the Great Depression.
This is one of my absolute favourite blues songs and I have many versions! This playlist includes some of my favourite recordings by women:
---
5. PROVE IT ON ME
Written by Ma Rainey
First recorded by Ma Rainey in 1928
In 'Blues Legacies and Black Feminism' Angela Y. Davis writes that "'Prove It on Me' is a cultural precursor to the lesbian cultural movement of the 1970s, which began to crystallize around the performance and recording of lesbian-affirming songs."
It is said that this song is a response to the rumours that Ma was homosexual after an incident in 1925 when she was arrested for taking part in a female orgy at her home. Lyrics include:
"Went out last night with a crowd of my friends. They must've been women, 'cause I don't like no men." "It's true I wear a collar and a tie… Talk to the gals just like any old man… Don't you say I do it, ain't nobody caught me. You sure got to prove it on me."
Read more about the incredible Ma Rainey!
Listen to the original recording and a modern recording by Carmen Twillie from the 2015 HBO movie, 'Bessie'.
---
6. SEE SEE RIDER 
Written by Ma Rainey and Lena Arant
First recorded by Ma Rainey in 1924
In 2004, the original Ma Rainey recording received a Grammy Hall of Fame Award.
In an interview, film director Martin Scorsese credited this song with stimulating his interest in music. (The Blues. Feel Like Going Home. Interview)
What does See See Rider mean?
'The Language of the Blues' by Deborah Devi states that a 'Rider' is the most commonly used metaphor for sexual intercourse in blues, and can refer to men and women (Ma Rainey's version seems to refer to See See Rider as a man). 'See See Rider' is also synonymous with 'Easy Rider', referring to someone who is sexually promiscuous or easily seduced.
Listen to Rainey's original version, and a gorgeous cover by Louis Armstrong and Velma Middleton (The song introduction by Louis Armstrong is well worth a listen too):
---
7. BLACK ANGEL BLUES
Written by Lucille Bogan (?)
First recorded by Lucille Bogan in 1930
Bogan wrote most of her own songs and they were greatly influenced by the rowdy jook joints she played in. By the 1930s most of her songs were about drinking, sex, and, in particular, prostitution.
This song has been re-recorded numerous times under different titles and is a great example of how blues songs are borrowed and reworked over time. 'Sweet Little Angel' was a huge hit for BB King in 1956 – allegedly BB King thought Robert Nighthawks version of the song, recorded in 1949, was the original!
Here you can hear the original by Bogan (1930), the BB King and Robert Nighthawks versions, plus a modern recording by Saffire The Uppity Blues Women:
---
8. T'AINT NOBODY'S BIZ-NESS IF I DO
Published by Porter Grainger and Everett Robbins in 1922
First recorded in 1922 by Anna Meyers, backed by the Original Memphis Five. Other early recordings include Sara Martin (with Fats Waller on piano), Alberta Hunter and Bessie Smith.
In Bessie Smith's version, she added lyrics about an abusive partner (she was known to have an abusive husband):
I'd rather my man would hit me, than to jump right up and quit me …
I swear I won't call no copper, if I'm beat up by my papa
Tain't nobody's business if I do
1947, Jump Blues singer, Jimmy Witherspoon, revived the song and renamed it Ain't Nobody's Business. Witherspoons version was was inducted into the Blues Foundation Hall of Fame in 2011.
There are hundreds of versions of this incredible song. In this playlist I have included the original recording by Anna Meyers (1922), the early recordings by Bessie Smith and Sara Martin, plus two of my favourite more recent recordings by Otis Spann (1969) and Aurora Nealand (2014).
And I couldn't not post this video of Otis Spann performing the song live (it gives me goose bumps!). Make it full screen, turn up the volume, and enjoy…
---
9. WILD WOMEN DON'T HAVE THE BLUES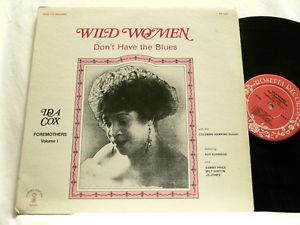 Written by Ida Cox
First recorded by Ida Cox in 1924
The last song on the list is one of the most empowering for women. Ida Cox was known for addressing issues of female independence, sexual liberation, and the social and political struggles of black Americans, from a decidedly female perspective.
This song, in particular, was much loved and is known as one of the earliest 'feminist anthems':
"I've got a disposition and a way of my own,
When my man starts to kicking I let him find a new home,
I get full of good liquor, walk the street all night
Go home and put my man out if he don't act right
Wild women don't worry,
Wild women don't have the blues"
The below playlist includes Ida's original recording from 1924, and a more recent recording from Ida, with much better sound quality, recorded in 1961.
---
SOURCES
[1] Wikipedia: Wexler, Jerry; Ritz, David (1993). Rhythm and the Blues: A Life in American Music. New York: Alfred A. Knopf.
Black Pearls: Blues Queens of The 1920s by Daphne Duval Harrison
Blues Legacies and Black Feminism by Angela Y Davis
The Language of the Blues by Debra Devi